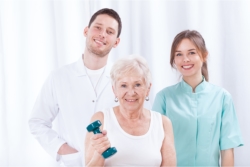 Our physical therapists at Ability Works Rehab Services LLC are registered and licensed. Their function is to evaluate patients' needs and devise a care plan that is geared towards continuing recovery and/or restoration of musculoskeletal functions.
The care plan may include modalities such as:
Home Safety Evaluation
Muscle Strengthening
Teaching Transfer Techniques
Mobility Enhancement
Gait Training
Stair Climbing
Range Of Motion Exercise
Pain Management
If your patients could use the help of a physical therapist at home, please contact us.
Thank you for trusting our staff with your patients health and wellness.
To see our coverage areas for the Physical Therapy please click here.